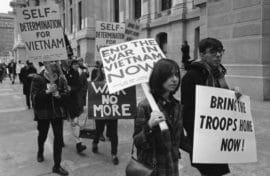 Fifty years ago, from Paris to Mexico-City,  young people, students, factory workers and filmmakers united to protest authority. They did not only carry rocks, but also light, flexible 16mm camera's. On the fiftieth birthday of the May 1968 Paris events, EYE Film Museum, in their series "1968 – You Say You Want A Revolution", will show movies from international filmmakers that used those tumultuous days to make their mark.
On May 5th, the John Adams Institute collaborates with EYE on a program which focuses on the reception of the Vietnam War. Tracy Metz and guests will discuss the public perception of the war and the antiwar protests. The renowned Instant Composers Pool, a collective of improvisation musicians, also celebrating its fiftieth anniversary this year, will perform subversive music.
The program includes a compilation of clips from Vietnam war films, with guests speaking about the representation of the Vietnam war:
– Vietnam veteran Glen Kendall experienced the war at close hand and talks about what it was like to return home;
– Tracy Metz, journalist and director of the John Adams Institute, talks about how the Vietnam war entered American homes on TV;
– Geert Buelens discusses the role of media and film in the perception of the Vietnam War;
– An Instant Composer talks about music as resistance.