Oct 13, 1994 - De Rode Hoed, Keizersgracht 102, Amsterdam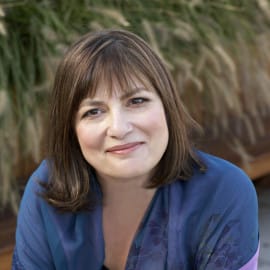 On October 18, 1994, the John Adams Institute hosted author Alice Hoffman, who spoke on her novel Second Nature (translated in Dutch as De Wolveman). The evening was moderated by journalist J.J. Peereboom.
Following her debut with Turtle Moon (Het uur van de schildpad) in 1972, Alice Hoffman wrote five novels before achieving major breakthrough with Illumination Night in 1987. The publication of her novel At Risk (Buiten spel) in 1988 earned her the title of "a major novelist" by Newsweek who compared her work with that of Anne Tyler and Mary Gordon. Seventh Heaven (De zevende hemel, 1990) was praised not only by Robert Redford, who bought the film rights, but also by writers like David Leavitt and Amy Tan. In her novel Second Nature (1994), to which the movie rights have been sold, Hoffman creates a special mixture of magic realism, sentimental journalism, and suspense. It is the story of a three-year-old survivor of a plane crash who is taken care of by a family of wolves, and is later taken home by a woman who teaches him how to read, write, and play chess, and initiates him into the world of love and sex. The translation in Dutch, De wolveman, was published in October 1994 by Anthos. Alice Hoffman does not view herself as an intellectual writer: "Its more like I write from the gut," she says. She has ten books to her credit, all still in print, which have earned the respect of her fellow novelists and general readers alike.
_________________________________________________________
Links:
Moderator: J.J. Peereboom

In collaboration with: Amsterdam Renaissance Hotel, Uitgeverij Anthos, United States Information Service the Hague, Ministerie van Buitenlandse Zaken, Prins Bernhard Fonds, Claire Taylor-Copywriter, Borrie & Co-Registeraccountants, the American Book Center, Kwartaalblad 'Amerika', Digital Equipment B.V.