Oct 23, 1992 - Aula, Universiteit van Amsterdam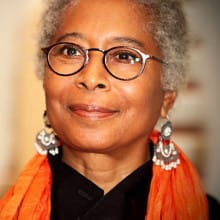 On October 23th, 1992, the John Adams Institute hosted author Alice Walker for the second time. She spoke about her then newly translated novel Possessing the Secret of Joy (translated in Dutch as Het Geheim van de Vreugde), and female genital mutilation. The evening was moderated by Astrid Roemer.
Alice Walker is an internationally celebrated author, poet and activist whose books include seven novels, four collections of short stories, four children's books, and volumes of essays and poetry. She's best known for The Color Purple, the 1983 novel for which she won the Pulitzer Prize—the first African American woman to win the Pulitzer Prize in Fiction—and the National Book Award. The award-winning novel was adapted for Steven Spielberg's 1985 film and later for the stage, opening at New York City's Broadway Theatre in 2005, winning a Tony Award for best leading actress in a musical in 2006. Walker has written many additional best sellers; among them, Possessing the Secret of Joy (1992), which revealed the devastating effects of female genital mutilation and led to the 1993 book and documentary Warrior Marks, both collaborations with British-Indian filmmaker Pratibha Parmar, and We are the Ones We Have Been Waiting For: Inner Light in a Time of Darkness. Read more from her website here.
Moderator: Astrid Roemer
_________________________________________________________
Moderator: Astrid Roemer

In collaboration with: KLM, Maarten Muntinga, Scheltema Holkema Vermeulen