Dec 07, 2005 - Pulchri Studio, Lange Voorhout 15, Den Haag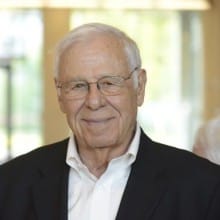 Etzioni was in the Netherlands to launch the Dutch translation of his bestselling book The New Golden Rule: Community and Morality in a Democratic Society (De nieuwe gulden regel) with a preface by Balkenende, who was presented with the first copy in The Hague. A panel of MPs, including Ayaan Hirsi Ali ,Femke Halsema and André Rouvoet, offered reactions to Etzioni's 'golden rule'.
A refugee from Nazi Germany, Etzioni went on to found the communitarian movement and become one of the most influential intellectuals in the United States. His work, From Empire to Community, has been described by the Prime Minister as 'a pioneering work of vital importance to the formation of a new way of international thinking.'
A senior advisor to President Carter, Etzioni's thinking has influenced both Tony Blair's 'third way' and George W. Bush's 'compassionate conservatism'.
He is a frequent commentator in the media and the author of over 25 books, including 2004's How Patriotic is the Patriot Act: Freedom Versus Security In the Age of Terrorism.
The evening was moderated by journalists Ben Knapen and Bas Heijne of the NRC Handelsblad.
_________________________________________________________
Links:
Moderator: Bas Heijne, Ben Knapen

In collaboration with: The City of The Hague, Paagman Boekhandel, Ten Have Publishers, Filosofie Magazine