Dasani Coates, a child with an imagination as soaring as the skyscrapers near her Brooklyn homeless shelter grew up in the shadows of New York's second "Gilded Age." Dasani's story has become emblematic of one of America's most wicked problems: homelessness.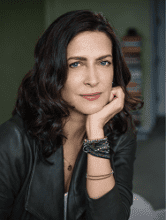 The John Adams Institute is delighted to welcome Pulitzer Prize winner Andrea Elliott, investigative reporter for the New York Times whose work documents the lives of people on the margins of power (picture by Nina Subin).
Based on nearly a decade of reporting, Andrea Elliott's 2022 Pulitzer winning book, Invisible Child: Poverty, Survival & Hope in an American City, follows eight dramatic years in Dasani's life, where the disparity between those with wealth and power and those without is rapidly growing.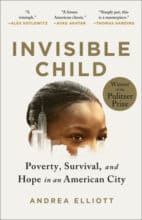 At thirteen, Dasani enrolls in a prestigious boarding school and faces an impossible question: what if leaving poverty means leaving behind the family she loves? By turns heart-breaking and revelatory, provocative, and inspiring, Invisible Child tells an astonishing story about the power of resilience, the importance of family, and the cost of inequality.
Andrea Elliott is the first woman to win individual Pulitzer Prizes in both Journalism and Arts & Letters.
"This book is so many things: a staggering feat of reporting, an act of profound civic love, an extraordinarily moving tale about the fierceness of family love, and above all, a future American classic." – Ayad Akhtar, author of Homeland Elegies
Click here to buy the book at Athenaeum Boekhandel with a 10% discount (use code JOHNADAMS2022).
Moderator: Tracy Metz

In collaboration with: Aegon