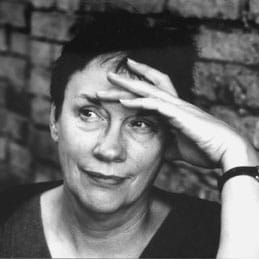 The John Adams Institute presented internationally acclaimed novelist, Annie Proulx, at the American Literature Today series on 24 October, 1999 to talk about her collection of short stories, Close Range, Wyoming Stories (De gouverneurs van Wyoming, De Geus). Pieter Steinz, literary critic and NRC Handelsblad journalist, introduced and interviewed Ms. Proulx.
With Close Range, Annie Proulx depicts a Wyoming of contrasting images, arising from the romantic notions of folklore and simplicity of the wilderness. Proulx's masterful language and fierce love of Wyoming are evident in this collection of stories about loneliness, quick violence, and the wrong kinds of love.
In "The Half-Skinned Steer," a foolish old man drives west to the ranch he grew up on for his brother's funeral, and dies a mile from home. In "Brokeback Mountain", the difficult affair between two cowboys survives everything but the world's violent intolerance. These are stories of desperation, hard times and unlikely elation, set in a landscape both brutal and magnificent. Enlivened by folk tales, flights of fancy, and detailes of ranch and rural work, they juxtapose Wyoming's traditional character and attitudes.
In 1995, Annie Proulx catapulted into the international spotlight with her brilliant second novel, The Shipping News, which won both the Pulitzer Prize and the PEN/Faulkner Award. "Brokeback Mountain" and The Shipping News were made into movies. Her other novels include Accordion Crimes and Postcards. The translation of the latter occasioned her visit to the John Adams Institute in March of 1996.
_________________________________________________________