Nov 07, 2002 - De Agnietenkapel, Oudezijds Voorburgwal 231, Amsterdam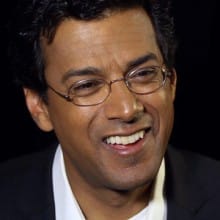 The John Adams Institute proudly presented an additional lecture to its schedule of events with writer-physician Atul Gawande (1965). His book Complications: A Surgeon's Notes on an Imperfect Science was recently translated into Dutch under the title Complicaties by Dutch publishing house De Arbeiderspers. Louise Gunning, Dean of the Medical Faculty of the University of Amsterdam and Chairman of the Board of Directors of the Amsterdam Medical Centre, introduced Atul Gawande and interviewed him following his talk.
In Complications, Gawande writes about the art of healing as it takes place in America's leading academic centers. He describes medicine, his profession, as an enterprise of constantly changing knowledge, uncertain information and fallible individuals. In other words, the dubious footing on which a doctor must perform. Medicine reveals itself as a fascinatingly complex and "fundamentally human endeavor". With humor, sensitivity and critical intelligence, Gawande explores the pros and cons of new technologies and writes unflinchingly on various ethical dilemmas and medical mistakes. In one case, he critiques a controversial factory model for routine surgeries that delivers superior success rates while dramatically cutting costs. By alternating between the anecdotal and the scholarly, Gawande offers his extraordinary view of the medical world.
Atul Gawande is a surgeon at a Brigham and Women's Hospital in Boston and a staff writer on medicine and science for The New Yorker. He received his M.D. from Harvard Medical School and a M.P.H. from the Harvard School of Public Health. His work has appeared in The Best American Science Nature Writing 2000, The New Yorker essay collection In Sickness and in Health, and Slate. Gawande lives with his wife and three children in Newton, Massachusetts.
_________________________________________________________
Links:
Moderator: Louise Gunning

In collaboration with: De Arbeiderspers Publishing House, the University of Amsterdam, Bathsheba van den Bosch-Fulton, United Airlines, Embassy of the United States of America, The Netherland-America Foundation, The International Herald Tribune, Renaissance Amsterdam Hotel