The John Adams Book Club meets monthly to discuss a book from  the rich range of American literature, fiction and non-fiction, from classics to current bestsellers. Our objective is to explore American culture in its myriad of aspects – literature, art, politics, history, race relations, landscape, economy, education, science, technology, society
Coordinator of the John Adams Book Club is Glen Kendall, an Amsterdam-based American with a life-long passion for books. As a veteran of the Vietnam War, he is also one of the authors in The War We Would Forget: Dartmouth Veterans and the Vietnam War.
Glen coordinates the selection of books and the discussions based on recommendations from the Club members The discussions are always animated, very interesting and highly enjoyable. We have assembled an excellent group of members with different backgrounds and life experiences.  And the refreshments after the discussion allow for more informal conversation.
The John Adams Book Club meets once a month. Members can choose either a Wednesday or Thursday meeting. Meetings are at Athenaeum Boekhandel, Spui 14-16, Amsterdam, 19:00 – 20:30, informal discussion afterwards. There are no regular fees for members. Athenaeum donates the meeting space for which we are most grateful.
Book Club Members receive a 10% discount on any books purchased at Athenaeum. And Book Club members can purchase tickets for John Adams Institute events at the reduced Members price.
The size of each discussion group is limited to 15 persons to facilitate discussion. At present there is no space available for new members.  If you would like to join the wait list, please send an email to JABookclub@glenems.nl.
For November, we are remembering the great American writer Phillip Roth who passed this year. We will read and discuss American Pastoral.
The first two sections of the book are richly textured with background detail. The last third, however, is full of shocking surprises and a message of existential chaos. "The Swede found out that we are all in the power of something demented," Roth writes. And again: "He had learned the worst lesson that life could teach – that it makes no sense." In the end, his dream and his life destroyed by his daughter and the decade, Swede finally understands that he is living through the moral breakdown of American society. The picture is chilling. Publishers Weekly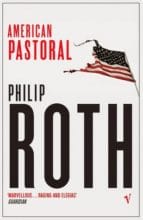 November 7 and 8, 19:00-20:30
Athenaeum Boekhandel, Spui 14 – 16, Amsterdam
Informal conversation and drinks afterwards.
For a list of books we have previously read click here.
For a list of books for discussion September through December 2018 click here.