---
In continuation of its mission to support American culture in Amsterdam, the John Adams Institute has its very own book club. Coordinator of the John Adams Book Club is Glen Kendall, an Amsterdam-based American with a life-long passion for books. As a veteran of the Vietnam War, he is also one of the authors in The War We Would Forget: Dartmouth Veterans and the Vietnam War.
Glen coordinates the selection of books and the discussions based on recommendations from the Club members.  The objective is to explore the rich range of American literature, fiction and non-fiction, from classics to current best sellers. The discussions at the Book Club are always animated, very interesting and highly enjoyable. We have assembled an excellent group of members with different backgrounds and life experiences.  And the refreshments after the discussion allow for more informal conversation.
The John Adams Book Club meets once a month. Members can choose either the Wednesday or the Thursday meeting.  There is currently a waiting list for both evenings.  New places open periodically.  For full details and to be added to the waiting list, send an email to Glen at JABookclub@glenems.nl.
Book Club Members receive a 10% discount on any books purchased at Athenaeum.
We will next discuss:
A Gentleman in Moscow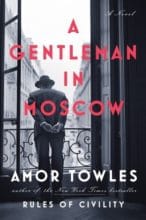 by Amor Towles
A Gentleman in Moscow immerses us in another elegantly drawn era with the story of Count Alexander Rostov. When, in 1922, he is deemed an unrepentant aristocrat by a Bolshevik tribunal, the count is sentenced to house arrest in the Metropol, a grand hotel across the street from the Kremlin. Rostov, an indomitable man of erudition and wit, has never worked a day in his life, and must now live in an attic room while some of the most tumultuous decades in Russian history are unfolding outside the hotel's doors. Unexpectedly, his reduced circumstances provide him a doorway into a much larger world of emotional discovery. from Goodreads.
Where: Athenaeum Boekhandel, Spui 14 – 16, Amsterdam
When: March 7 & 8
Time: 19.00-20.30, informal discussion afterward
For a list of books for January through June 2018, click here.
For a list of the books we've read and discussed previously, click here