---
In continuation of its mission to support American culture in Amsterdam, the John Adams Institute has its very own book club. Coordinator of the John Adams Book Club is Glen Kendall, an Amsterdam-based American with a life-long passion for books. As a veteran of the Vietnam War, he is also one of the authors in The War We Would Forget: Dartmouth Veterans and the Vietnam War.
Glen coordinates the selection of books and the discussions based on recommendations from the Club members.  The objective is to explore the rich range of American literature, fiction and non-fiction, from classics to current best sellers. The discussions at the Book Club are always animated, very interesting and highly enjoyable. We have assembled an excellent group of members with different backgrounds and life experiences.  And the refreshments after the discussion allow for more informal conversation.
The John Adams Book Club meets once a month. Members can choose either the Wednesday or the Thursday meeting.  For details about membership, send an email to Glen at JABookclub@glenems.nl.
Book Club Members receive a 10% discount on any books purchased at Athenaeum.
Our book for June is "O Pioneers! (1913). This book was Willa Cather's first great novel, and to many it remains her unchallenged masterpiece. No other work of fiction so faithfully conveys both the sharp physical realities and the mythic sweep of the transformation of the American frontier – and the transformation of the people who settled it.
Date: June 13 and 14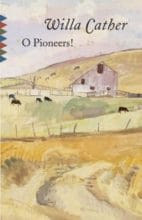 Location: Athenaeum Boekhandel
Spui 14 – 16
Amsterdam
Time: 19:00 – 20:30
informal conversation and drinks afterwards
For a list of books for January through June 2018, click here.
For a list of the books we've read and discussed previously, click here