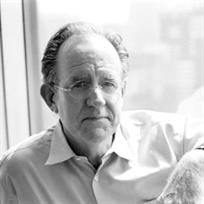 On Wednesday April 17th, 1991, the John Adams Institute hosted an evening with American author Bruce Duffy. He is best known for his novel The World As I Found It.
In his remarkable first novel, Ludwig Wittgenstein calls the Tune. This time, the most significant, poetical, and imaginative thinker of this centiury meets Bertrand Russel and G.E. Moore as aggravated opponents. In an audacious game on the borderlines of history, philosophy, and imagination – put in a brilliant prose – the lives of these men is being exposed in a way which would have been impossible in a 'standard' biography. As Arthur C. Danto argued in Times Literary Supplement, only a novel can do justice to Wittgenstein's extraordinary life, its moral beauty and artistic versatility.
In October 2010, the book was republished as a Classic by the New York Review of Books. Duffy has also contributed to Harper's Magazine, Time Magazine and Life magazine.
The evening was moderated by Frans Boenders, main editor of Kunst en Cultuur magazine in Belgium.
_______________________________________________________