Apr 09, 1997 - West-Indisch Huis, Herenmarkt 97, Amsterdam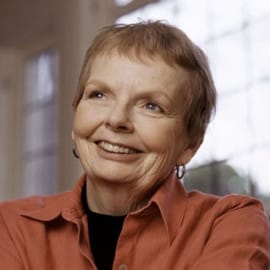 The John Adams Institute hosted an evening with Pulitzer Prize winning author, Carol Shields, who made her literary debut at 40 with Small Ceremonies (1975). She has written more than 10 award-winning books since, including Swann, The Republic of Love and Various Miracles. Shield's highly unorthodox novel, The Stone Diaries, made her famous. It is an autobiography of Daisy Stone Goodwill, that combines eloquent literary prose with photographs and other evidence of her life. Shield's book Happenstance was originally published as two separate novels, in which Jack and Brenda Bowman live through the same two days separately – yet together. Taken as one story of two, this is a remarkable, perceptive, and painfully accurate work that yields more with each reading. Shields demonstrates the alienation innate in most loving relationships between the sexes.
Carol Shields died of breast cancer in 2003 at the age of 68. Read her obituary from The Guardian here.
___________________________________________________________
Moderator: Graa Boomsma

In collaboration with: Amsterdam Renaissance Hotel, NOG Verzekeringen, Uitgeverij de Geus, Novelty Books, Canadian Embassy of the Hague, Department of Foreign Affairs and International Trade Canada, United States Information Service the Hague, IBM Nederland N.V., NV Koninklijke KNP BT, Claire Taylor - Copywriter, Borrie & Co-Registeraccountants