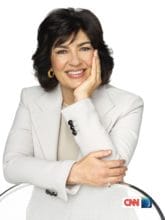 On January 25th, Christiane Amanpour, CNN's chief international anchor and host of the network's award-winning global affairs program 'Amanpour', will take the stage at the John Adams for the first time. Amanpour will discuss her illustrious career in journalism, spanning three decades, from the Gulf War to the Trump presidency.
Amanpour's  international career began in 1990 as a correspondent for CNN, where she reported on international crises in Iraq, Afghanistan, North Korea, Palestinian territories, Iran and many more countries. She has interviewed many world leaders and has received every major broadcast award. In 2014 she was inducted into the Cable Hall of Fame.
In addition to her work as an anchor and reporter, Amanpour is an active human rights campaigner and she has used her profile to raise awareness of key global issues and journalists' rights: for example, she has interviewed educational rights activist Malala Yousafzai for CNN on several occasions and brought attention to the plight of the 200 Nigerian schoolgirls abducted by Boko Haram.
Join us for an evening with, according to Forbes magazine, one of the "100 Most Powerful Women."