Nov 23, 1994 - West-Indisch Huis, Herenmarkt 97, Amsterdam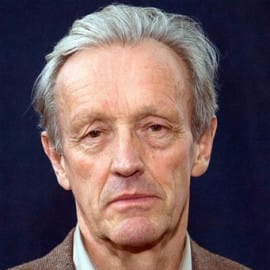 On November 23d, 1994, the John Adams Institute hosted an evening with author Colin Thubron, who spoke on his novel The Lost Heart of Asia. The evening was moderated by American author Don Bloch.
Prize-winning novelist Colin Thubron is best known for his many travel books, having made extensive journeys through the Muslim Middle East, North Africa, Western Russia and China, resulting in such highly praised works as Among the Russians and Behind the Wall, which was rewarded with the Hawthornden Prize and the Thomas Cook Travel Award in 1988. Eminently capable of striking up interesting acquaintances, Thubron is said to possess 'a deep talent for inspiring confidence and eliciting those views and experiences which can illuminate a whole life in a few paragraphs". Colin Thubron's book The Last Heart of Asia charts his 6000-mile journey through central Asia, describing many races he encountered in the newly emergent countries of the former Soviet Union, and explores their struggles to come to terms with the numerous changes and challenges facing them.
_________________________________________________________
Moderator: Don Bloch

In collaboration with: Amsterdam Renaissance Hotel, The British Council, Uitgeverij Atlas, Penguin Books Nederland, Nilsson & Lamm, Smiths Food Group B.V., United States Information Service the Hague, Ministerie van Buitenlandse Zaken, Prins Bernhard Fonds, Claire Taylor-Copywriter, Borrie & Co-Registeraccountants, The American Book Center, Kwartaalblad 'Amerika', Digital Equipment B.V.