Dec 09, 1992 - De Rode Hoed, Keizersgracht 102, Amsterdam
On December 9th, 1992, the John Adams Institute hosted author David Leavitt for the first time. He lectured on his novel While England Sleeps, and spoke about The Penguin Book of Gay Short Stories, which he co-edited with Mark Mitchell. The evening was moderated by Bas Heijne, and included Q&A with the audience.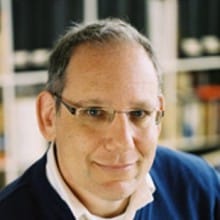 "For most of my adult life I have been a working writer. My books include novels, story collections, and a couple of non-fiction works. In 1991 The Lost Language of Cranes was made into a BBC film with Brian Cox, Eileen Atkins, Angus McFadyen, and Corey Parker. In 2002 the Spanish director Ventura Pons adapted my novel The Page Turner into the film Food of Love with Juliet Stevenson, Paul Rhys, Allan Corduner, Geraldine McEwan, and Kevin Bishop. The Indian Clerk is currently in development as a film to be produced by Scott Rudin. In the 1990s I co–wrote a screenplay with the late John Schlesinger entitled Someone's Son. It was never produced. At the University of Florida, I teach graduate and undergraduate workshops and a lecture course on the American short story. I also edit the literary journal Subtropics, which I founded in 2006." Read more on his website here.
Moderator: Bas Heijne
_________________________________________________________
Moderator: Bas Heijne

In collaboration with: Ramada Renaissance Hotel Amsterdam, UItgeverij de Harmonie, Penguin Books, Trans World Airlines, The United States Information Service Den Haag