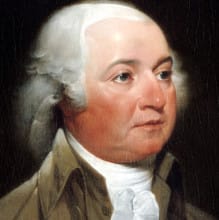 19 April 2004
On Monday, 19 April 2004, we celebrated the 222nd Dutch-American Friendship Day together with the Amsterdam American Business Club in WTC Schiphol.
The Netherlands was, after France, the second country to recognize America as an independent nation. Our namesake John Adams, the second president of the United States, arranged for this on 19 April 1782. He then went on to become the first Ambassador for America in The Hague.
The program will contain speeches by the current U.S. Ambassador, Cliff M. Sobel, representatives of the Dutch and American Chamber of Commerce and the city of Amsterdam. Our guest, Gary Goldschneider, spoke about and let us hear a little from his opera project Call Me Ishmael, an opera based on Herman Melville's novel Moby Dick.
_________________________________________________________