Sep 25, 1994 - West-Indisch Huis, Herenmarkt 97, Amsterdam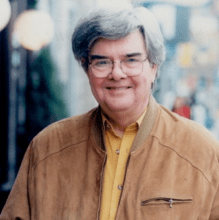 On September 25th, 1994, the John Adams Institute hosted the Canadian writer and journalist Ernest Hillen, who spoke about his debut The Way of a Boy: A Memoir of Java (translated in Dutch as Kampjongen: Herinneringen aan Java). The event was moderated by journalist Peter Schumacher.
Ernest Hillen was born in Scheveningen. As a young child he moved to the Indonesian island of Java. He was only 7 years old when, in 1942, his idyllic world on the island of Java was suddenly turned upside down by the invasion of the Japanese Imperial Army. In his debut and autobiography, The Way of a Boy: A Memoir of Java, Hillen recounts the incarceration of his entire family in the Japanese prison camps – his father, mother, 11 yr. old brother, and himself. They were finally freed at the end of the war, three-and-a-half years later. In this quietly understated memoir, Hillen describes the often horrifying events that he witnessed or hear about from the point of view of a child, in a moving yet never sentimental style. Hillen emigrated to Canada in 1952 and The Way of a Boy was published in 1993. The book won the 1993 Drummer-General's Award for Non-Fiction and was the editor's choice of various publications.
Moderator: Peter Schumacher

In collaboration with: Amsterdam Renaissance Hotel, Uitgeverij H.J.W. Becht, Penguin Books Nederland, Canadian Embassy in the Hague, Smiths Food Group B.V., United States Information Service the Hague, Ministerie van Buitenlandse Zaken, Prins Bernhard Fonds, Claire Taylor-Copywriter, Borrie & Co-Registeraccountants, the American Book Center, Kwartaalblad 'Amerika', Digital Equipment B.V.