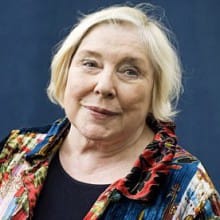 We were pleased to welcome well-known novelist, playwright and screenwriter Fay Weldon, who spoke about her autobiography Auto Da Fay (translated into Dutch with the same title by Publishing House Contact). Stine Jensen introduced Fay Weldon and conducted the interview with her, as well as moderated questions from the audience.
Auto Da Fay is, as Fay Weldon remarks, 'an attempt to narrate a real life, my own, and to find the pattern within it'. This book tells us about her life as a child in New Zealand, as a young, poor girl in London, as an unmarried mother, and as a wife. It covers love, sex, babies, blokes, poverty, work, politics, and not a few Very Famous Names. Her story begins in 1931, when she is born as Franklin Birkinshaw, and stops when she is 32, just wed Mrs. Weldon. At that time, her most well-known books were as yet unwritten (The Life and Loves of the She-Devil – The Cloning of Joanna May – Big Women). With dry humor, she depicts hilarious situations as well as embarrassing circumstances, which she only is able to write about in third person. Fay Weldon's biography is rich in associations and memories, which lead then again to another retrospection, hopping back and forth in time and space to come back on track to the episode from which she started. The book jacket describes Weldon as an icon to many, a thorn in the flesh to others, but someone who has never failed to excite, madden or interest.
Stine Jensen studied philosophy and literary theory at the University of Groningen and obtained a PhD in cultural studies at the University of Maastricht. She teaches television studies at the University of Nijmegen and writes essays and book reviews on cultural issues for the NRC Handelsblad. Her book De Verlangenmachine was published in 2001 and her book Waarom vrouwen van apen houden? Een liefdesgeschiedenis in cultuur en wetenschap in 2002.
_________________________________________________________
Links: