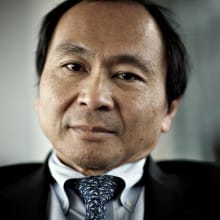 One of America's most distinguished political thinkers took the John Adams Institute stage for the second time to discuss his far-ranging exploration of history and society.
Francis Fukuyama's book is about how states form, but while it goes back into the distant past, its relevance is very up-to-date. How did ancient societies relinquish their tribal ties in favor of a strong central government? The West has long supported democracy as an organizing principle, and has pushed tribal societies to change. But how realistic is that?
Francis Fukuyama also visited the John Adams Institute in 2020, 2019, 2014 and 1995. Click below to watch the video of his 2020 (online) visit.