This year's most anticipated new novel is without a doubt Hanya Yanagihara's To Paradise (published in Dutch as Naar het paradijs by Nieuw Amsterdam).
And we are thrilled that Hanya Yanagihara is returning to the John Adams for a conversation about her three-part story across three centuries, centered around New York City. To Paradise is a revisionist American history – not identical to the America as we know it but a 'what if' narrative, invested in raising concerns about America as a nation: what it has been, what it might have been and what it could be. An epic tale told across multiple timelines and characters, separate from each other, but providing major themes and takeaways for the reader. "A masterpiece of our time," according to The Guardian.
Hanya Yanagihara's previous novel A Little Life was the novel of 2015: critics lavished praise on the book and it would go on to win the Kirkus Prize and was a finalist for the National Book Award and the Man Booker Prize; it has been adapted for the stage by Internationaal Theater Amsterdam (ITA), and readers of the New York Times nominated it for one of the 25 best books of the past 125 years. Readers worldwide have been anxiously waiting for her new book.
To Paradise is a big book in every sense of the phrase and it will definitely be one of the most talked about literary fiction books of 2022. Join us on March 11 for a conversation with one of the best novelists of our time.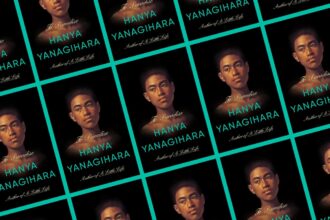 Click here to read the introduction of Hanya Yanagihara and To Paradise by moderator Joyce Roodnat.