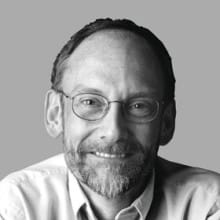 The John Adams Institute proudly presented an evening with Harold McGee, food author. He spoke about his book On Food & Cooking: The Science and Lore of the Kitchen, which has just been translated in Dutch by Nieuw Amsterdam Publishers with the title Over Eten en Koken.
Harold McGee writes about the science and chemistry behind cooking, and food history. On Food & Cooking was originally published in 1984, and revised in 2004. The event was moderated by Hans Steketee, journalist with NRC Handelsblad.
Hans Steketee was NRC Handelsblad's London correspondent from 1998 until 2005. His book about Britain, "Eiland tussen de oren, het Verenigd Koninkrijk achter de Schermen", is published by Prometheus. Today he is the paper's Culture Editor. You can read his introduction to Harold McGee here.