A large part of issue number four of Chad in Amsterdam is about origin. What does it mean when you're constantly on the move?
In A Tale of Three Cities (The Dutch Inquisition), we find Chad once more at a bar, being asked where he's from. This time, it gets him reminiscing about the three cities he has lived in: Cleveland, Washington D.C. and Amsterdam. "It's tricky to ascertain precisely where I'm from as I've lived in a few places on the globe. The majority of my life has taken place in a triptych of diametrically opposed cities".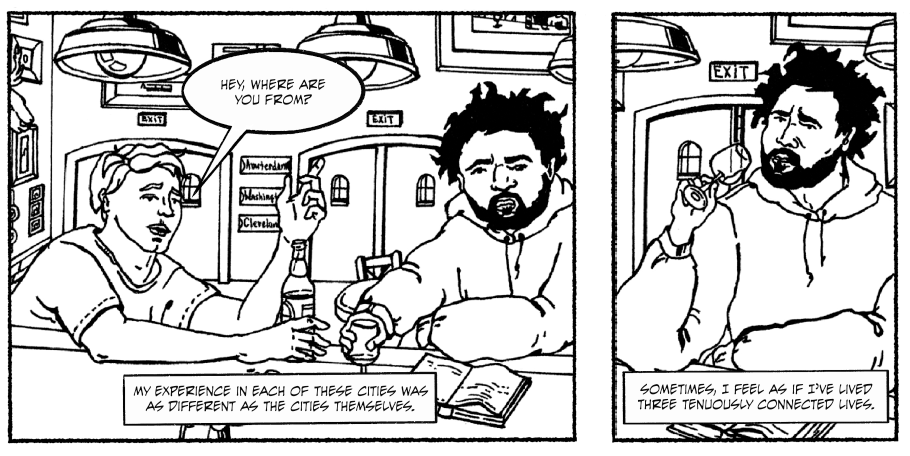 "When I'm in Cleveland and someone asks me where I'm from, I assume that they are probably themselves from Cleveland and are wondering precisely where on the east or west side I grew up." In DC he was quick to learn that origin was not such a hot issue. The opening line most heard in the capital, where politics and career making are ubiquitous, is not 'where are you from', but 'what do you do?'
In Amsterdam, he found, the question 'where are you from' was put to him so often, that it started to feel less of an inquiry and more like an inquisition: "It seems that my origin is of utmost importance here in Amsterdam. I found it strange that the denizens of such a historically diverse city had such a proclivity towards focusing on superficial differences."
Meanwhile, over at the bar, Chad doesn't answer the question this time. Instead he gets up, lost in thought and heads home.
Phone Home
Phone Home* is an ode to his family back in Cleveland. "I wanted to add a personal touch. In some of the stories, I may seem like a jerk, always spewing criticism. But I'm really not, I'm just telling it like I see it."
It's kind of nice to see a more personal side of Chad, as he is chatting away with his mom about the cats and sharing inside jokes. Talking about the situation back home makes Chad realize the upsides of living in Amsterdam. Like how it's safe to wander the streets at night, and how there is no out of control gun violence. And simply just how beautiful the city is.
As anyone would, Chad misses his family. But, as his mother points out to him, every place has its good and bad sides. Home is where the heart is. And in the end, isn't that what it comes down to?
* fun fact: the artist of Phone Home, Rachelle Meyer, worked on a blog series for John Adams last year, which showcased her Faces on the Ferry art project.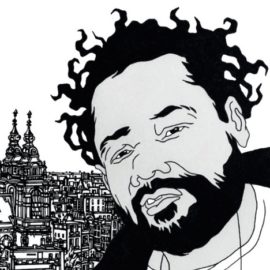 Lera Ryazanceva created the images for 'A Tale of Three Cities'. Those of 'Phone Home' were made by Bernie Mireault. All content copyright © Chad Bilyeu. Visit Chad's website to get your copies of 'Chad in Amsterdam'. They are also available in several bookstores in Amsterdam, like Athenaeum Boekhandel and The American Book Center. Click here for the other blogs in this series.