May 26, 1998 - De Rode Hoed, Keizersgracht 100, Amsterdam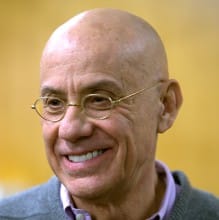 Thriller writer James Ellroy came to the John Adams Institute to speak about his autobiography My Dark Places, a memoir about the search for the murderer of his mother who was killed when Ellroy was 10 years old. Ellroy has written over 20 books, including Blood on the Moon, American Tabloid and tetralogy L.A. Quartet. He is known for a telegrammatic prose style and for frequently omitting connecting words and using only short, staccato sentences. He currently lives and writes in L.A.
_________________________________________________________
Links:
James Ellroy's website
Moderator: Theo D'Haen

In collaboration with: Stichting Kersjes van de Groenekan Fonds, Van Ditmar Boekenimport, United States Information Service the Hague, LIRA Fonds, Koninklijke KNP BT, Claire Taylor - Copywriter, Borrie & Co R.A.