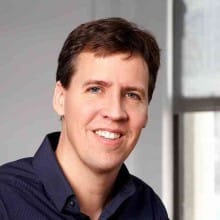 When Jeff Kinney was a kid in Fort Washington, Maryland, he wanted to be a cartoonist, but he couldn't get his cartoons syndicated. In 1998 he started writing a fictional diary of a boy named Greg Heffley. In 2004, the Diary of a Wimpy Kid first appeared on the game site FunBrain.
Finally, in 2007, he published it as a book, and it quickly became one of the most popular kids' books of all time. There are now 75 million copies of the eight books of the series in print, in 40 languages.
In the first book Greg writes,"… one day I will definitely be famous, but for now I'm stuck in the seventh grade with a bunch of morons." His dream has come true: he's famous.
This event was made possible by NOS journalist Tim Overdiek and his sons, Sander and Eamonn. Tim's wife, Jennifer Nolan, died unexpectedly on October 24, 2009, and Tim, Sander and Eamonn wanted to do something special in her honor. One of Jenn's favorite things was to read Diary of a Wimpy Kid to her sons, so this event was for Jenn Nolan.