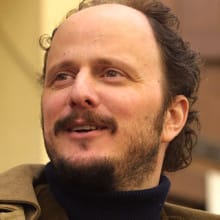 Jeffrey Eugenides (Detroit, 1960) spoke about his latest novel, Middlesex. Middlesex, translated in Dutch by Contact Publishers, is Eugenides' long-awaited second novel, following his sensational debut The Virgin Suicides (1993). Stacey Knecht (New York, 1957), literary translator and staff member at the Fonds voor de Letteren (Foundation for Dutch Literature), introduced Eugenides and interviewed him after his talk.
Middlesex is the weird and wonderful story of Calliope Stephanides, a student at a girls' school in Grosse Pointe, who discovers, in the spring of 1974, that she is not like other girls. In fact, Callie has inherited a rare genetic mutation. The biological trace of a guilty secret, this gene has followed her grandparents from the crumbling Ottoman Empire to Detroit and has outlasted the glory days of the Motor City, the race riots of 1967, and the family's second migration, into the foreign country known as suburbia. Thanks to the gene, Callie is part girl, part boy. And even though the gene's epic travels have ended, her own odyssey has only begun.
Jeffrey Eugenides' work has appeared in The New Yorker, The Paris Review, and Best American Short Stories. His debut, The Virgin Suicides, has been made into a motion picture.
_________________________________________________________