Dec 15, 2011 - Singelkerk, Singel 452, Amsterdam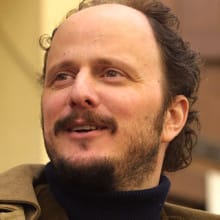 Jeffrey Eugenides is one of America's greatest living novelists. If that isn't so apparent, it may be because he only produces a new book every nine years. His first novel, The Virgin Suicides, about five girls who commit suicide in the suburbs of Detroit, electrified critics and readers alike.
His second, Middlesex, about the travails of a Greek-American hermaphrodite, won the Pulitzer Prize. His new book, The Marriage Plot, is a classic love triangle and, in the words of Kirkus Reviews, "a stunning novel—erudite, compassionate and penetrating in its analysis of love relationships.
Click below for an audio excerpt from the book.
Moderator: Tim Overdiek

In collaboration with: Prometheus Publishers, Holland-America Friendship Foundation, American Embassy The Hague, AEGON