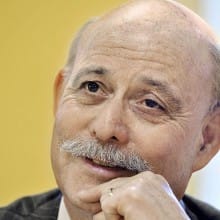 The John Adams Institute hosted an evening with Jeremy Rifkin. As director of the Foundation on Economic Trends in Washington D.C., he is one of the 150 most influential people in the United States capital. He has written seventeen books on the impact of technological changes on the economy and the community. Within his foundation Rifkin managed to unite many left-wing groups under one banner, fighting for animal rights and the environment.
Jeremy Rifkin lectured on how the United States should look to Europe as a guide for equality, sustainability and solidarity, as examined in his book The European Dream.
_________________________________________________________
Tracy Metz introduced Jeremy Rifkin.
Jeremy Rifkin's TEDx talk "Leading the way to the third industrial revolution":