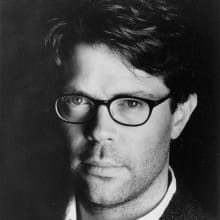 The John Adams Institute, in co-operation with Prometheus Publishing House, proudly presented an evening with Jonathan Franzen, winner of the National Book Award 2001. Franzen will discuss his latest novel The Corrections, which has been translated into Dutch under the title De Correcties. Michaël Zeeman, renowned literary critic for the Dutch newspaper de Volkskrant, introduced Franzen and moderated questions from the audience.
The Corrections is a novel about the American Family. You could interpret it as a family soap opera of sorts, but Franzen has much more to say, giving a view on modern western society that is both humorous and poignant. The Lambert family takes you to everyday America and brings you into the world of 'consumerism, pharmacology, biotechnology, the 'optimistic egalitarianism' of the American Middle West, the superstitious magic of the stock exchange, and the unbearable lightness of virtual being on the home pages of the Infobahn, not to mention asparagus steamers, refrigerator magnets, a vacuum pump to keep leftover wine from oxidizing, cell phones, and class hatred' (New York Review of Books). 'It is a marvelous book?, it creates the illusion of giving a complete account of a world, and while we're under its enchantment it temporarily eclipses whatever else we may have read'. (The New York Times).
Jonathan Franzen (St. Louis, 1959) has written three novels, The Twenty-Seventh City (1988), Strong Motion (1992), and The Corrections (2001). Until the release of his last novel, Franzen was relatively unknown. The Corrections has become a bestseller, and won the National Book Award in October 2001. Oprah Winfrey selected The Corrections for her Book Club, but Franzen caused a row by declining her choice initially. Although The Corrections has Oprah Winfrey's selection sticker on it, Jonathan Franzen is the first author to be formally uninvited to appear on Oprah's television show. He also visited the John Adams Institute in 2006 and 2010.
_________________________________________________________
Links:
Vanity Fair article updating the feud between Franzen and Oprah