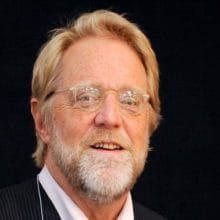 The John Adams is happy to announce a last-minute addition to our program. Jonathan Taplin is the author of Move Fast and Break Things, a bracing account of how the internet has been captured by the big tech companies. Taplin, himself with thirty years' experience in the music and film industry, tells the story of how a number of libertarian entrepreneurs, with roots in the writings of Ayn Rand, created the three giant monopolies – Google, Facebook and Amazon – that now determine the future of all our media industries and may, in the end, also determine how democracy ends.
The digital giants, he argues, have become engines for increasing inequality. The revenues are colossal, yet they employ few people in comparison to normal companies: "We are rushing ahead into the universe of artificial intelligence with almost no political or policy debate about its implications," he writes. "It is time for that to change."
Jonathan Taplin has had a remarkable career: he began as tour manager for Bob Dylan and The Band. In 1973 he produced Martin Scorsese's first feature film, Mean Streets, plus 12 other feature films, some nominated for Oscars and Golden Globes. A lawyer by training, he moved to Merrill Lynch to work as vice-president of media mergers and acquisition. Taplin is Director Emeritus of the Annenberg Innovation Lab at USC.
Join us for an evening about new ways to think about our relationship to the internet and the companies that have come to dominate it.