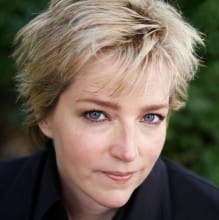 The John Adams Institute hosted an evening with bestselling author Karin Slaughter. She visited the Institute to speak about her new book Faithless (published in Dutch as Trouweloos).
In the latest installment of her popular Grant County series, medical examiner Sara Linton returns to solve another mysterious small-town death in America's deep south.
"Brilliant plotting, relentless suspense," raves the Washington Post. "A new synonym for terror," crows the Detroit Free Press. Slaughter's first novel in 2002 received a Dagger Award nomination for the best debut crime novel.
The evening was moderated by award-winning crime writer Charles den Tex.
_________________________________________________________
Links:
Moderater Charles den Tex delivered the following introduction to Karin Slaughter.