Super Tuesday! That unique American event marks an important moment at the start of the elections. This year it takes place on Tuesday March 3rd. On that very day, the John Adams will host Kim Wehle, a law professor, constitutional scholar, commentator and author of the book How to Read the Constitution – and Why.
Wehle will discuss the importance of the Constitution in connection to current U.S. politics with Dutch constitutional expert Wim Voermans, moderated by Eelco Bosch van Rosenthal.
This year, 14 states will hold their Democratic presidential primaries on that day. They will select 1,345 delegates – that is 34 percent of all the delegates to the Democratic convention. At the same time, the Senate's impeachment trial of the President looms in the background…
What do these two events have in common? The elections process and impeachment process are rooted in the Constitution, America's founding document.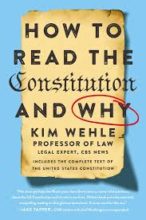 In her book, Kim Wehle lays out in clear language what is actually in the Constitution, and most importantly, what it means (the 'why'). In compelling terms, she describes how the Constitution's protections are eroding and why every American needs to heed this "red flag" moment in our democracy. 'How to Read the Constitution – and Why' is essential reading for anyone who wants to understand the constantly breaking news about the backbone of American government.
Join us on Super Tuesday to 'demystify' the Constitution, as Wehle puts it, and discover what this valuable document actually means and whether it is still up to its task of safeguarding its system of checks and balances.
Moderator Eelco Bosch van Rosenthal delivered the following introduction to Kim Wehle.