Life on the reservations is tough for many and for different reasons. Generational trauma and isolation can mean that making a living is difficult but people do what they can. They are used to finding ways to cope.
Donnie Shockey Two Bulls, a veteran marine and ex-police officer, set up a stall to sell jewelry items to passers-by. He says it helps him deal with the loneliness he has felt since his wife passed away a year ago. "White people named these the badlands, but there are no bad places on Earth, these are the White hills".
When Two time INFR bull riding champion Jordan 'Slick' Phelps was injured after his horse Gorilla slipped on ice, crushing Slick's ankle, the young champion had to face the possibility that his rodeo career was over. It took over eight months but Slick is competing again, and he's still riding Gorilla.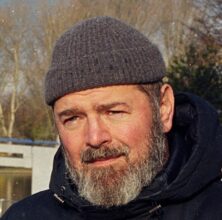 Doug Hancock is an award-winning Dutch film director, cinematographer and photographer, best known for his observed, intimate storytelling. A respected name within the Amsterdam commercial industry, his first documentary, Robert Mims the Texan Bull Rider, was celebrated at several international film festivals and was shortlisted for best short documentary at Big Sky Film Festival in 2018. His documentary Riders of the Buffalo Nations is in pre-production with production planned for 2023/24.