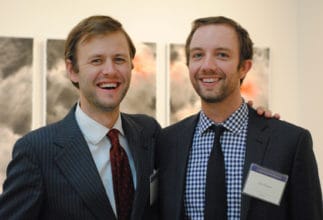 A wish has come true! The John Adams Institute is happy to announce we are hosting an event especially for children, with the award-winning duo author Mac Barnett and illustrator Jon Klassen, who have successfully collaborated on several picturebooks, the trilogy 'Triangle', 'Square' and 'Circle', as well as 'Extra Yarn', and 'Sam & Dave Dig a Hole'.
Their most recent collaboration, picturebook 'The Wolf, the Duck, and the Mouse' (published by Uitgeverij Gottmer as 'De wolf, de eend en de muis', and translated by award-winning children's book author Edward van de Vendel) is a story about a duck and mouse who get swallowed by a wolf, and then decide to live in his belly. With a nod to traditional fables and a wink to the reader, Barnett and Klassen offer a tale of co-operation and creative cuisine.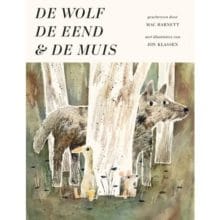 During the event, which starts at 3pm, Barnett and Klassen will discuss their book and engage the children (ages 4 and up) in an interactive project.
The Wolf, the Duck, and the Mouse…[is] funny, with morbid senses of humor that will hit Halloween sweet spots…It turns out the wolf's gut harbors the best party in town, and some readers' sympathies might shift toward the carnivore—aided by the great Jon Klassen's droll paintings; no one does perturbed animals better.
—The New York Times Book Review