Former U.S. Secretary of State Madeleine Albright returned to the John Adams Institute once more, this time for an online interview with Eelco Bosch van Rosenthal about her new book Hell and Other Destinations, a 21st-Century Memoir.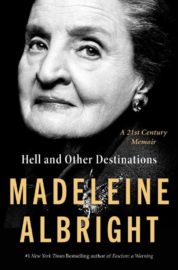 As one of the world's most admired and tireless public servants, Albright reflects on the final stages of her career and on how to stay productive in later life. She will address not only her own past experiences, but also the current turbulent state of affairs in the US.
"I don't want to be remembered," Albright said to reporters when she left office as America's first female Secretary of State. "I am still here and have much more I intend to do. As difficult as it might seem, I want every stage of my life to be more exciting than the last."
And that's exactly what happened. Albright has written a revealing, funny and inspiring memoir about how she has stayed relevant in the past twenty years. She is active as a writer, teacher, speaker, business woman and a fighter for democracy.