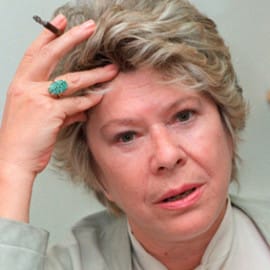 On February 15th, 1994, the John Adams Institute hosted author Marilyn French, who spoke about her novel Our Father (translated in Dutch as Onze Vader). Cynthia Bunton moderated the evening, which included Q&A with the audience, and a book signing.
Marilyn French was born in New York in 1929 and has devoted most of her writing career to the lives of women. French was one of the first writers to translate feminist concerns into a convincing novel, The Women's Room, which was acclaimed as an international bestseller that changed lives. She began writing the book in 1958 but was unable to finish and publish it until the advent of the feminist movement in the 1970s. French has also written other feminist novels including The Bleeding Heart and Her Mother's Daughter, both international bestsellers. Our Father is a gripping novel about four very different daughters who unite in their confrontation with their father.
Marilyn French died from heart failure in 2009. Read her NY Times obituary here.