"She rides out of the forest alone. Seventeen years old, in the cold March drizzle, Marie who comes from France."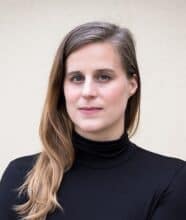 Rising American literary star Lauren Groff's most recent novel inhabits the borderlands between myth and history. Set in the early Middle Ages, Matrix is a mystical exploration of the raw power of female creativity in a corrupt and dangerous world.
Deemed too coarse for marriage and cast out of the English court of Eleanor of Aquitaine, Marie de France is banished by the Queen to take charge of an impoverished community of nuns on the brink of starvation and beset by disease. Surrounded by austerity, Marie is cast into a new life of another's design. The youngest daughter of a French noble family and the last child in a long line of female warriors and crusaders, Marie shakes the mud from her threadbare habit and devotes herself – body and soul – to revivifying her struggling community.
In this fictional biography of poet and mystic Marie de France, Groff explores the rich possibilities of this community of sisters, delving into questions of power, sexuality, and what makes a visionary. Nearly dreamlike throughout its narrative, Matrix is governed by a complex mixture of consuming passion, aberrant faith, sensuality, and religious ecstasy.
We will also be joined by the Medieval musical stylings of Annette Kruisbrink and Franka van Essen, a guitar and vocal duo who have set the poems of Marie de France to music.
Special thanks to the International Writers' Collective Amsterdam for making this event possible.
Click here to read Els Quaegebeur's introduction to Lauren Groff.