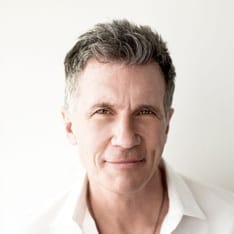 Two brothers, Barrett and Tyler. As they grapple with aging and loss, the one turns to religion after seeing a nighttime vision in Central Park, the other to drugs. They are the focal point around which Michael Cunningham's haunting new novel The Snow Queen revolves.
This is the sixth book by Pulitzer Prize-winner Cunningham, who is well-known for his elegant and compact prose and his psychological insight into his characters. In The Hours – about a day in the lives of three women and the parallels between them – as well in his last novel By Nightfall, the main characters are struggling to find fulfillment to their lives.
In The Snow Queen we follow the two brothers who in their search for transcendence take entirely different paths. "Cunningham's story is about how we reconcile our closest human relationships with our innermost thoughts, hopes, and fears," according to Publisher's Weekly.
Michael Cunningham also visited the Institute in 1992, 2005 and 2010.