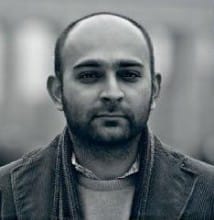 Mohsin Hamid returned to The John Adams Institute, this time to discuss his new novel Exit West,  also translated and published as Exit West by De Bezige Bij.
In a country teetering on the brink of civil war, two young people meet and fall in love. The sensual and fiercely independent Nadia and gentle, restrained Saeed. When the violence in their city explodes, they begin to hear whispers about doors that can whisk people far away, if perilously and for a price. They decide they no longer have a choice. Leaving their homeland and their old lives behind, they find a door and step through.
The New York Times Book Review calls Exit West "At once terrifying and … oddly hopeful". It is an astonishingly visionary love story that imagines the forces that drive ordinary people from their homes into the uncertain embrace of new lands.
Mohsin Hamid is the internationally bestselling author of Moth Smoke and The Reluctant Fundamentalist. The latter was shortlisted for the Man Booker Prize. His novels have been translated into more than thirty languages, and his essays and short stories have appeared in The New York Times, The Washington Post, and The New Yorker. He now lives in Lahore, Pakistan.
Click here for the introduction by moderator Naema Tahir.