On April 11th, 1990, travel author Paul Theroux visited the John Adams Institute to discuss his book My Secret History. Theroux gained renown as author of travel stories. With his sharp pen and intriguing reports, he brought renewed interest to the literary travel genre. However, Theroux sees his travel stories as subordinate to his other work. Traveling offers him a way to escape himself; it offers him the possibility to take on a different role, and rediscover old borders. Double roles and their alienating effects are themes found in My Secret History.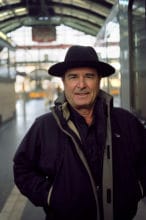 Hans Bouman moderated the evening, which included an interview and Q&A with the audience.
Paul Theroux also visited the John Adams Institute in 2000 and 2011.