Nov 04, 1998 - De Rode Hoed, Keizersgracht 100, Amsterdam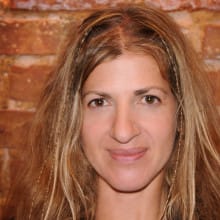 To mark the publication of both the original and the Dutch translation of her novel, Giving Up America, Pearl Abraham visited the John Adams Institute. Giving Up America is the story of a young couple, Deena and Daniel, who have their roots in different Jewish traditions. The reader follows their lives for the period of a year, in which the daily grind and the dissonances between the two people's characters take an increasingly heavy toll. Deen and Deena find different ways to escape their matrimonial existence. In her books, Abraham uses her own traditional Hasidic background both to create atmosphere and question the norms and values of modern American society. Born in Israel in 1960, Abraham and her family moved back and forth between the United States and Israel during her childhood. Today, she is Assistant Professor in the English Department at Western New England University where she teaches creative writing and fiction.
_________________________________________________________
Links:
Pearl Abraham's website
Anja Meulenbelt's website
Moderator: Anja Meulenbelt

In collaboration with: Het Kersjes van de Groenekan Fonds, The Netherland-America Foundation, J.M. Meulenhoff B.V., Van Ditmar Book Import, Nilsson & Lamm, United States Information Service the Hague, Buhrmann, Claire Taylor - Copywriter, Borrie & Co R.A.