Apr 27, 1994 - De Rode Hoed, Keizersgracht 102, Amsterdam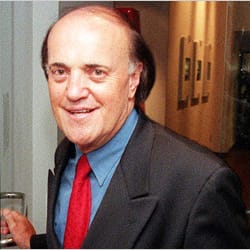 On April 27th, 1994, the John Adams Institute hosted an evening with CNN journalist Peter Arnett. He spoke about his experiences while broadcasting from the battlefield, and his autobiography titled Live From the Battlefield: From Vietnam to Baghdad. The evening was moderated by historian and journalist Raymond van den Boogaard.
Whether writing for print or broadcasting on television, Pulitzer Prize-winning Peter Arnett is undeniably one of the greatest war correspondents of all time. From his early days on New Zealand's Southland Times, Arnett knew journalism would be his ticket to the world. He traveled from Bangkok to Laos. Arnett then journeyed to Indonesia where he traveled with Soekarno but was expelled after only thirteen months for reporting on the developing war. In 1962, Arnett was sent to Vietnam. His controversial coverage incurred the wrath of President Johnson but won him the Pulitzer Prize. In the worlds of fellow reporter David Halbertson, Peter Arnett emerged from thirteen years of Saigon as 'the great reporter of the Vietnam war, the journalist most respected and beloved by his peers'. Arnett joined CNN in 1981 as an international correspondent. In 1991 he reported the Gulf War for CNN from Baghdad. Satellite communications would forever change the way we see war, and Arnett's on-the-ground reporting of the Gulf War had an immediacy nobody had experienced before. In his autobiography Live from the Battlefield: from Vietnam to Baghdad – 35 Years Inside the World's War Zones, Arnett shares his experiences. In 1997 he interviewed Osama bin Laden and he went to Iraq in 2003 to cover the U.S. invasion on assignment for NBC and National Geographic. He retired as a reporter in 2007. He now lives in Los Angeles and teaches journalism at Shantou University in China.
Moderator: Raymond van den Boogaard

In collaboration with: Smiths Food Group B.V., Uitgeverij Balans, The American Book Center, Kwartaalblad 'Amerika', Digital Equipment B.V.