Sep 29, 1999 - West-Indisch Huis, Herenmarkt 97, Amsterdam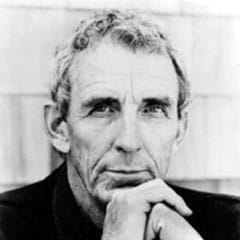 The John Adams Institute presented Peter Matthiesen for the second time, marking the publication of his novel, Bone by Bone. This book is the capstone of Matthiesen's Everglades trilogy, and is preceded by Killing Mister Watson and Lost Man's River. In the first two volumes others reconstructed the history of Edgar Watson. In Bone by Bone, Watson himself relates the story of his life from the unjust loss of his plantation, through exile in Indian Territories, his arrest for murder and his years as a sugar-cane farmer in the uncharted Florida Everglades, to his bloody death. Bone by Bone brings to life an anti-hero of complex character and profound humanity. After graduating from Yale, Matthiesen moved to Paris and attended Sorbonne. He also cofounded The Paris Review. He eventually returned to New York and lived as a writer, naturalist and environmental activist. His book The Snow Leopard won the American National Book Award.
Peter Matthiesen died from leukemia in 2014. Read his NPR obituary here.
_________________________________________________________
Moderator: Anthony Paul

In collaboration with: Embassy of the United States of America the Hague, The Netherland-America Foundation, Borrie & Co R.A., Heuvelman Sound & Video, Claire Taylor - Copywriter, Uitgeverij Contact, Nilsson & Lamm, Harvill