In rural areas, where people can live in isolation much of the time, Agricultural fairs have long been important social opportunities. First Nations communities quickly saw them as one of the few legal ways to gather and preserve cultural expressions, which had been forbidden by settlers.
As First Nations communities fought back against oppression and began to regain their rights in the early 20th century, agricultural fairs evolved to include and celebrate Native culture and Powwows became an integral part of them.
The Lakota flag song (written by a Lakota soldier returning from Flanders) is sung with the National anthem before every rodeo.
Many in the communities had held on to traditional dress and preserved other important cultural and religious artifacts, which were handed down through the generations. Sadly, much has been lost and the hard work of regaining language and cultural knowledge continues to this day.
Doug Hancock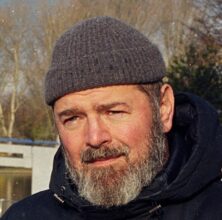 is an award-winning Dutch film director, cinematographer and photographer, best known for his observed, intimate storytelling. A respected name within the Amsterdam commercial industry, his first documentary, Robert Mims the Texan Bull Rider, was celebrated at several international film festivals and was shortlisted for best short documentary at Big Sky Film Festival in 2018. His documentary Riders of the Buffalo Nations is in pre-production with production planned for 2023/24.