By: Kemal Rijken
Day 5
No Enthusiasm or Craziness on Election Day
Long lines of voters, cheering Obama supporters along roads and many happy Americans that say they have made history. Shortly, this was the spirit that made Election Day 2008 a historical day for the United States and the world. How different is it now, four years later. Today Chicago was a dull and grey city, with none of the enthusiasm that was there, just four years ago.
We Dutch journalists expected long lines and great smiles today. Yes, we where even hoping for a great celebration, but it turned out very different. The weather was cold and wet, so not many people must have had the drive to walk outside and wait in the rain. Also, a lot of voters have voted early, so today there weren't any big lines. It seemed just an ordinary working day, with nothing much going on. President Obama was in town, supporting his volunteers and waiting for the first results to come in from states like New Hampshire and Maine.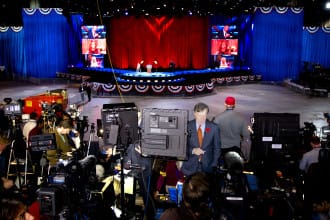 I decided to call my friend Pat Duncan, who lives in swing state Ohio. Maybe he could tell me something about voting in his hometown Norwood. 'Kemal, I had a totally different experience today than four years ago. In 2008, the line at the polling office in my neighborhood was far longer and way more diverse,' he told me. The crowd was also different. 'Four years ago, there where lots of youngsters and African American voters, seventy percent at least. Today most of them did not show up. It was a weird experience for me. Why didn't they vote?' Pat himself voted for Obama in the last election. 'This year I voted for real change, so I've voted for Mitt Romney.'
After the phone call, we cruised trough Chicago to find voters: from Chinatown to Greektown and from downtown to Andersonville. No lines, no voters, no news in sight. So we drove up to McCormick Place, the big convention center at the shore of Lake Michigan, where all the action would be going on. Here we found hundreds of journalists from all over the world for president Obama's election party. It truly was and is a special experience.
For now I am writing my piece in one of the halls, with at least two hundred colleagues around me. Soon the first guests will arrive and the results will come in. It's going to be a special election night.
___________________________________________
Day 4
Obama: get out and vote!
 An old African American woman is leaning against a fence and holding a blue sign with 'Forward' in her hand. She is surrounded by others who stand shoulder to shoulder in the burning Florida sun. All of them are accompanied by thousands of people. They all are here for one thing: to support President Barack Obama, who will appear soon. Volunteers of the Obama campaign spread bottles of water around so that people will not get dehydrated. Other volunteers hand over signs with 'Forward' and 'Obama 2012' on it. In the air you can hear the sounds of Aretha Franklin's song "Respect". Somewhere on the field, a group of people is singing along: 'R-e-s-p-e-c-t!'
This Obama rally is held at a high school football field in Hollywood, a city in the Miami metropolitan area. The event was announced on Friday and fully booked within a couple of hours. After visiting the Republican rally with Veep candidate Paul Ryan in Panama City, my colleagues and I wanted to attend a Democratic gathering. We jumped in our SUV to drive down to southern Florida. We drove until 3 a.m. and stopped in Ocala – central Florida – for a short sleep in a motel, stood up early today and drove on to Hollywood. In total it was a nine-hour drive. After arriving at the football field, we could park on a special media spot and walk in. The contrast with the visitors couldn't be bigger. They had to stand in line for hours before they could even enter the field.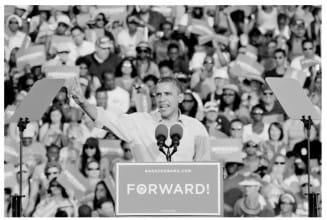 Halfway through the afternoon the first speakers appear on stage. At first former Florida governor Charlie Christ speaks out. 'A few months after the economic crisis broke out, President Obama came down to Florida to help us out. During the BP oil spill, the president was here day and night to help us out. When he gets reelected I'm confident that the president will help our Florida out again. That's why you have got to reelect him,' says Christ. Next to speak is R&B artist Pitbull: 'My father and mother are Cuban refugees. Thanks to President Obama, Cuban Americans have a future.' Once the national chairwoman of the Democratic Party is speaking the crowd goes wild again, because the presidential limousine drives along.
For us Dutch journalists, the Obama rally is an amazing happening to be part of. Not only have we never seen Obama up close, but we also have never see so many people that gather together at a political event. Dutch politics can learn from this approach. However, we are not the only journalists: more then forty colleagues (domestic, local and foreign) are here to cover this event. It differs a lot from the Paul Ryan rally that we attended yesterday. There were only ten journalists in Panama City. The reason for Obama to campaign in Florida is the same one as the Romney camp has: due to the undecided situation in battleground state Florida, this year every vote counts. Therefore both parties came down to the state to urge people to vote.
After the pledge of allegiance and the American national anthem, the moment arrives that we have all been waiting for. President Obama appears on stage and is cheered on by thousands of people. The crowd really goes crazy. The president walks to the microphone and says: 'I'm fired up and ready to go!' His stump speech is about reforms, his future plans and a lot of optimism. Obama wants to hire more teachers, invest in the economy and complete his health care plans. But for now, the most important message comes down to this: get out and vote! Obama: 'This election will be a close one. That is why you and others near you have to vote on Tuesday. Yes Florida, get out and vote!'
___________________________________________
Day 3
Paul Ryan: we need a high turnout in Florida
One who drives through Bay County, Florida, is confronted with Romney-Ryan signs along the road everywhere. Anti-Obama signs, such as 'Obama isn't working' and 'defeat Obama', are also very popular over here. This is an average country in the pan handle, a piece of Florida with an overall Republican base. It is in this area that congressman and Veep candidate Paul Ryan holds a rally at the Marina of shrimp fishing town Panama City.
Foreigners aren't seen much over here, so our presence did not go unnoticed. After parking at the Marina, we are approached by a local senior citizen who starts to talk about how bad Obama is for America. 'I just don't trust him,' she says. A few yards ahead a few Republican volunteers greet us. 'You come all the way from Amsterdam to report about Ryan? That is great,' another woman said. She welcomed all press. Next to her is a long line with hundreds of Republicans; who are dying to see Paul Ryan. They wear T-shirts with 'I love the USA' and 'God bless Romney and America' on it. After the usual security checks we walk into the press section where we have to wait for hours to see the candidate.
But why does the Romney campaign organize an event such as this one in a heavily Republican area? This has to do with demographics in the swing state of Florida. Recent polls show a dead heat between Romney and Obama. The one who gets the highest turn out among its own base could win Florida, an important state with 29 electoral votes. As in the years 2000 and 2004 this year it will come down to small numbers and margins. By organizing a rally in Bay County, the Romney campaign team hopes to get a higher turn out in the pan handle, the area where the most Floridian Republicans live. On the other hand Obama has the same strategy: former president Bill Clinton visited southern Florida on Friday and today the President himself will go to Hollywood, a city near Miami, to encourage Democratic voters.
After hours of waiting in the sun and listening to country singers and local Republican politicians, the big moment is finally here: Paul Ryan walks on stage. His stump speech comes down to the following: America doesn't need four more years of Obama. Ryan says that Obama broke all this promises, increased the national deficit and wants to turn the US into a socialistic country with a strong government. 'But it is God who makes the people, not government,' says Ryan. The crowd goes wild. He also has another message for these Republicans: vote early and encourage fellow Republicans to get out and vote on Tuesday. 'We need all votes in Florida to win this, and we have three more days,' Ryan tells them. After his speech, he waves and walks away to a bus that is waiting for him. It will bring him to the local airport, where his plane awaits him to fly him to a rally in another swing state.
___________________________________________
Day 2
Driving long to meet Paul Ryan
Swing state Florida is definitely one of the most interesting places to visit during election time. During the last couple of months both candidates and their running mates hold many rallies at places such as Palm Beach and Jacksonville. The grand finale was this week, when Michelle Obama and former president Bill Clinton held five meetings in only two days. Unfortunately the two photographers and I arrived yesterday evening, when both of them flew back north to campaign in other states.
In our mission to cover the American election circus, we are now on our way to Panama City, a town in the north west of Florida. Republican Veep candidate Paul Ryan will speak there today at two in the afternoon. We landed in Miami yesterday (a flight that was booked way in advance) and are driving now up north to the pan handle, where Panama City is. It's a nine-hour drive and we are making the best of it. Our rental car, a monstrous white Chrysler SUV, brings us there.
Though we have been on the road for hours, we did not see any campaign signs along the road. Nor did Floridians talk about the elections with us. Most of them like the fact that we are here to cover it all, but don't really seem to care about the campaign. I get the impression that months of political campaigning are now finally coming towards an end in Florida. The Paul Ryan rally is also the last one planned for now, which means that our team has only one chance to cover the campaigning in this warm and sunny state.
Today we will drive for six more hours to attend Ryan's rally. It better be good.
___________________________________________
Day 1
Stereotypes in the Sunshine State
Palm trees, beaches, beautiful woman, amusement parks, senior citizens and Miami Vice are a few of the many stereotypes that I have about Florida, the so called sunshine state that lies at the northern edge of the Caribbean. Another stereotype is the one of the all time swing state, where the counting of voting ballots has not always been very easy. Back in 2000 Al Gore (D) lost the election after many Floridian recounts and a battle at the US Supreme Court. Ever since, Florida has been an important state during the presidential elections. In 2004 the Floridian voters gave then President George W. Bush the benefit of the doubt above democratic candidate John Kerry and in 2008 they went for current president Barack Obama. Florida, with its 29 electoral votes, is an important state. Whoever wins Florida can win the White House.
Every year I tend to visit the United States, a country that I have been studying for at least ten years now: first as a student at the UvA and later as a journalist. During this decade I have traveled trough at least 16 states, including New York, California, Ohio and Texas, but Florida was never on my list. It was just too far away from the states that I visited. But today that is going to change: as a reporter for the John Adams Institute I will fly to Miami and write about the presidential elections in this battle ground state. Journalistic photographers Rick Nederstigt and Freek van den Bergh will join me. Together we will chase the Floridian election circus and see more of the American campaign trail in the coming week in states like Michigan and Illinois.
Important to know is that both candidates and their running mates have visited Florida over a dozen times (Obama 23 times and Romney 32 times). They attended rallies in places like Tallahassee, St Petersburg and Kissimmee. These are places where undecided voters want to listen to them, but where they will normally never come. But election season turns everything around. Also former president Bill Clinton gave speeches in Florida. Today he will speak at a rally in Palm Beach. Unfortunately for us, our plane will tip the ground when Clinton finishes his speech. So we will try to attend a Republican rally with Veep-candidate Paul Ryan, in Panama City, on Saturday. This place lies in the so called 'pan handle' one of the most conservative places in the US. Or as one could say: is that again a stereotype?