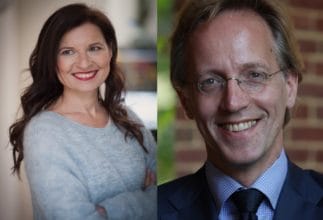 The John Adams Institute is happy to announce our upcoming event 'An Evening with Robbert Dijkgraaf & Pia de Jong'.
During this evening Dijkgraaf and De Jong will speak about their work and about academic and family life in the United States. The audience will be given a unique insight in the life and work of this multi-talented couple.
Pia de Jong is a prize-winning literary novelist and newspaper columnist who moved to the U.S. from Amsterdam in 2012. Since then, she has written more than 200 weekly Flessenpost columns on the back page of Dutch newspaper NRC Handelsblad. Her memoir, Saving Charlotte: A Mother and the Power of Intuition, is her first book to appear in English.
Robbert Dijkgraaf is a Dutch mathematical physicist and string theorist. He is a tenured professor at the University of Amsterdam, and director and Leon Levy professor at the Institute for Advanced Study in Princeton. He regularly appears on Dutch television and has a (monthly) column in NRC Handelsblad.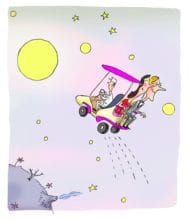 During the evening there will be two musical performances by the Ragazze Quartet. The Ragazze Quartet plays classical and contemporary string quartet repertoire and is acclaimed for its musical enthusiasm, talent, versatility and dynamic presentation. While grounded firmly in the classical music tradition, the Ragazze Quartet is always in search of the ultimate crossover, where the different disciplines are approached as equals.
Illustration by Eliane Gerrits, created for Pia de Jong's Flessenpost- columns in NRC Handelsblad.