Apr 15, 2020 - Online event @ New Metropolis Zuidoost
The documentary series The Innocence Files is inspired by 'The Innocence Project', started in 1992 by two New York lawyers who use DNA technology to exonerate people who were wrongly convicted. There are now Innocence Projects in every state of the US. They have been able to get over 2500 people out of jail, often after decades – but there are many, many more desperately awaiting their help.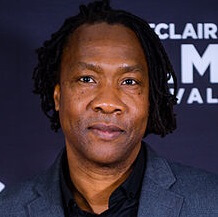 We had planned to do a big John Adams event about 'The Innocence Project' at the end of May, with – amongst others – Ohio law professor Mark Godsey and an exoneree, Rickey Jackson, who spent 39 years in prison for a crime he did not commit.
Instead, because of the coronavirus, John Adams director Tracy Metz did an online interview with Roger Ross Williams, one of the directors of the documentary series on the day Netflix premiered The Innocence Files.
They were joined by Bart Stapert, judge at the Court of Appeals in Den Bosch, and a former defense attorney in the Netherlands and in Louisiana.
Click below to watch the official trailer.
Roger Ross Williams has spoken at the John Adams twice before, in 2018 about his film 'American Jail' and last year, in collaboration with IDFA, about his film 'The Apollo'.