May 12, 2004 - De Rode Hoed, Keizersgracht 102, Amsterdam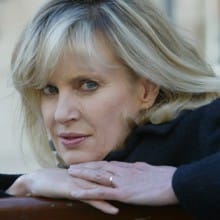 What I Loved is the diary-like biography of art historian Leo Herzberg. It chronicles twenty-five years of his life as a participant and observer of the New York art world. In 1975, he discovers an extraordinary painting by an unknown artist in a Soho gallery. He buys the work and tracks down the artist, Bill Wechsler. The two men embark on an intense friendship. The novel follows the evolution of the growing involvement between Leo's family and Bill's – an intricate constellation of attachments that includes their wives, Erica and Violet, and their children, Matthew and Mark. In the first part, the characters and their meditations are leisurely depicted; in part two and three, the pace shifts gears. The story develops the elements of a thriller, set off by the drowning of Leo's son Matt at a summer camp. Leo and Erica become totally incapacitated by grief. Moreover, it corrodes the structure of their relationship. Meanwhile, Mark develops a mean streak and gets involved in the campy club scene of New York. This, together with Bill's death, has a dramatic impact on Leo's life.
Besides exploring ideas about art, perception and the mysterious impact that others have on our lives, the main theme throughout the novel is observation. This makes Leo say: 'the difficulty of seeing clearly haunted me long before my eyes went bad, in life as well as in art.'
Siri Hustvedt' first novel, The Blindfold, was published in 1992 and subsequently translated into sixteen languages. Part of this novel was made into a film, Of Women and Magic. Her second novel, The Enchantment of Lily Dahl, for which she visited the John Adams Institute in 1998, was published in 1996. She is also the author of Reading to You, a book of poetry, and an accomplished art critic and essayist. Yonder is a collection of essays. She lives in Brooklyn, New York and is married to writer Paul Auster.
Moderator Nelleke Noordervliet
_________________________________________________________
Links:
Nelleke Noordervliet's website
Moderator: Nelleke Noordervliet

In collaboration with: Cargo/De Bezige Bij Publishing House, AEGON, vandenEnde Foundation, American Embassy The Hague, Van den Berch van Heemstede Fonds, Ministerie van OC&W, The Netherland-America Foundation, SNS Reaal Fonds