May 09, 1994 - West-Indisch Huis, Herenmarkt 97, Amsterdam
On May 9th, 1994, the John Adams Institute hosted an evening with the American realist painter Stone Roberts. He was interviewed by Jorge Guillermo, who authored an essay on Roberts' work, and by Dutch art historian Stefan van Raay. Examples of Roberts' work were present during the event.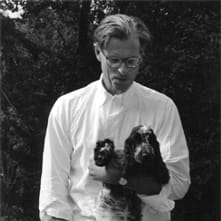 It took five years after finishing his fine arts studies in Rome before Stone Roberts finally devoted himself completely to painting. Upon returning to New York City in 1976, Roberts began leading a double life: working at his successful career in corporate finance, and painting in his free-time. He finally left the world of banking and devoted all his energies to painting in 1981. One of the first important paintings Roberts made after this change was the large and complex canvas, Janet. Here he combined his two specializations: figure composition and still life. Janet was acquired by the Metropolitan Museum of Art in New York City. Roberts has gained the reputation of being one of America's most important contemporary realist painters. His work is praised for its precision of form and composition. While resembling the best of the Old Masters, Roberts remains undeniably contemporary. Roberts' work has been featured in numerous museum and gallery exhibitions throughout the United States. A book about his work was published by Harry N. Abrams in Autumn of 1993, titled Stone Roberts. Paintings and Drawings.
_________________________________________________________
Links:
Moderator: Jorge Guillermo, Stefan van Raay

In collaboration with: Smiths Food Group B.V., Harry N. Abrams B.V., Kwartaalblad 'Amerika', Digital Equipment B.V.