By Richard Frishman
House and ambush site of state field secretary for the NAACP Medgar Evers (Jackson, Miss.). In 1963, he was gunned down in his driveway by a white supremacist.
All human landscapes are embedded with cultural meaning. And since we rarely consider our constructions as evidence of our priorities, beliefs and behaviors, the testimonies our landscapes offer are more honest than many of the things we intentionally present. Our built environment, in other words, is a kind of societal autobiography, writ large.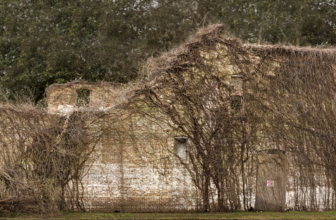 Many of the places I've photographed were found after conducting research online, in person and on location. I have reached out to scholars, historians and ordinary people who might share their insights, experiences and suggestions. Local libraries, museums and historical preservation websites often guide me to forgotten places, often hidden in plain sight.
Former Bryant's Grocery & Meat Market (above) in Money, Miss., where in 1955, 14-year-old Emmett Till was falsely accused of whistling at a white woman. He was later kidnapped, tortured, lynched and dumped in the muddy waters of Black Bayou Bridge over the Tallahatchie River (below).

In 1964, three civil rights activists were followed by Klan members after being released from county jail in Mississippi. They were forced off the road, taken to the remote location shown in this video (below) and bludgeoned to death.In showing  this hallowed ground, I wanted to convey the feeling of the place and the terror it represents. I can never know what truly went through the hearts and minds of these moral heroes. I can only know what their courage and suffering means to me.
The past is never dead. It's not even the past. Thus observed the brilliant writer William Faulkner of Oxford, Mississippi. America continues to struggle with its ghosts of segregation. This troubling truth, so evident in the rising racial rhetoric of today is my motivation to document these stories. I am not photographing places as much as commemorating the people who struggled.
Below: grave of Charles Eddie Moore (Meadville, Miss.). In 1964, two black teenagers, Henry Dee and Charles Eddie Moore were picked up by KKK members while hitchhiking. They were tortured in a nearby forest, locked in a trunk of a car, driven across state lines, chained to a Jeep motor block and train rails, and dropped alive into the Mississippi River to die.
Rich Frishman's photography is in a wide range of private and institutional collections in the US. His work has garnered dozens of prestigious awards. In 1983, he was nominated for a Pulitzer Prize. He lectures around the US about the intersection of the designed environment, history and social issues. Click here for his website. All pictures © Richard Frishman. This blog series is an adaption of on an article by Richard Frishman previously published in the New York Times. Edited by Mieke Bleeker. To read part 1 and 2 of this blog series, click here.