As we get older, many of us aspire to the same ideals: To enjoy old age from the comfort of the home we've built for as long as our bodies and minds will allow. We save for retirement to reduce financial worry, set up systems with family and friends to take care of each other, and do our best to choose a place that makes us happy.
What is often overlooked is how the built environment around us — namely our streets — helps or hinders our ability to age in place. When the parameters of aging in place are defined, they need to look beyond just how one's home is organized, and to how neighborhoods can be better arranged to allow people to live independently for as long as possible. Otherwise, we run the risk of increasingly isolating older adults, and putting them in greater harm.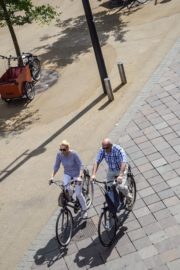 When planning and designing civic spaces, successful design is often touted as one where amenities are accessible within a one-kilometer walking radius from one's home: "The 15-Minute City". However, for the average older adult, that radius is often drastically reduced. This means that to create an age-friendly city, that radius should be reduced to 500 meters. Additionally, important details like seating and ubiquitous curb cuts are crucial, providing opportunities for people to stop and rest when their stamina begins to diminish, and to get them to the places they need to go.
Beyond design features, it is the life of a street that is critical to creating a positive space to age in place. As we grow older, our social circles naturally diminish. Families move, friends relocate to be closer to relatives, and, of course, our peers inevitably begin to pass away. A vibrant street life therefore becomes the space in which older adults can continue to feel a part of society rather than apart from it. Social isolation has very damaging effects on us regardless of age, but for older individuals who are retired, opportunities to interact with others play an important role in their emotional well-being.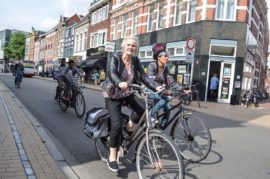 An elderly person who leaves the home at the same time every day to go shopping can expects to see familiar faces along the way, creating opportunities for happy "Hi-Hi" moments. The cashier at the grocer becomes a regular social contact that can uplift their mood simply by asking about their day. This ensures they experience feelings of connection and value, even in these brief moments. Powerfully, these small, seemingly insignificant snapshots in time, help combats feelings of isolation, depression, and loneliness, all of which are detrimental to our health and some of the leading causes of premature death.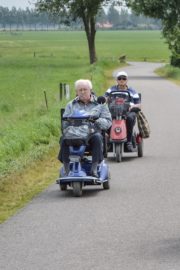 Car-based systems that mandate ownership of or access to an automobile are predicated on the assumption that everyone can drive or wants to drive. The truth is that all of us, at some point in our lives, will no longer be able to do so. According to the American Automobile Association, older adults are outliving their ability to drive safely by seven to ten years. Combined with research from the RAND Association suggesting that drivers over 65 are 16% likelier to cause a crash, this creates dangerous environments not only for them but for everyone around them. Age-friendly mobility systems recognize the need to create networks and systems that provide other, safer, options.
The clearest evidence of this is the prevalence of older adults cycling longer into old age in the Netherlands. People over 65 comprise the largest group of adults who cycle, not because they're super-human, but because of a combination of traffic calmed streets and safe, separated cycling networks. We also can't overlook the role electric bikes play in this trend, allowing older adults to keep pedaling on, even when their stamina begins to diminish. Low-car, human-scale environments allow people to participate in society far longer into old age.
The WHO Global Age-friendly cities guide identifies eight dimensions an age-friendly city must consider: Outdoor spaces and building, transportation, housing, social participation, respect and social inclusion, civic participation and employment, communication and information, community support and health services. If we want to ensure our society is afforded the respect and dignity to age in place and be a part of our social fabric for as long as possible, then we need to prioritize the human experience above all else.
This is the last part of the blog series 'Life is better on a bike'. Click here for part 1-5. Chris and Melissa are Canadian authors and urban mobility advocates. In 2019, they moved to the city of Delft in the Netherlands.
You can follow them on Twitter: @modacitylife or visit their website. Their book 'Curbing Traffic' appears at the end of June. John Adams readers get a 20% discount (use promo code BRUNTLETT) at islandpress.org. All pictures in this blog are by Chris & Melissa Bruntlett.