The presidential election is over, but the race for the US Senate is heating up – and Georgia holds the key. It is here that the last two seats in the Senate are up for grabs, so the stakes are high. Will the Republicans maintain their grip on the Senate? Or will the Democrats create a 50-50 split along party lines?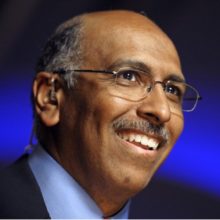 On January 6th, the day after the runoffs, the John Adams will talk online about the outcome and the consequences for the incoming Biden administration with Michael Steele and Jonathan Capehart, moderated by America-journalist Laila Frank.
Michael Steele, the former chairman of the Republican National Committee and the first African-American to hold that position, made headlines by publicly endorsing Joe Biden. And this summer he joined The Lincoln Project, a group of outspoken anti-Trump Republicans.
Jonathan Capehart is a journalist for the Washington Post and has a weekly weekend show on MSNBC, where he recently interviewed former President Barack Obama. In 2018, he was at the John Adams to talk about the U.S. midterm elections.