Strengthening European-American Relations
There is something new afoot at the John Adams – something bigger than bringing American culture to the Netherlands. We are making European connections! After all, the John Adams is not the only cultural institution in Europe which keeps tabs on great American thinking. It struck me that if these institutions are aware of each other's events, we can help publicize them, especially now that almost all events are online – and hopefully we can join forces to bring speakers over, once we can start holding live events again. I'm sure I speak for all of us when I say: we can't wait!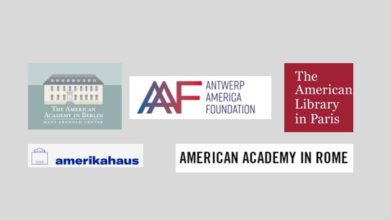 So we have connected with like-minded institutes in Germany, France, Belgium and Italy. Some of the institutes in this network go back decades, such as the Amerika Haus in Munich, one of several such 'houses' established all over Germany right after World War II to re-educate and democratize Germans. When the US withdrew its support in 1997, this became the Bavarian Center for Transatlantic Relations. The American Library in Paris, now independent, grew out of the Library War Service. The American Academy in Berlin was founded more recently, in 1994, at the initiative of Richard Holbrooke. Our own John Adams institute was created by private Dutch individuals in 1987 out of pure interest for American thinking and writing.
This network is as 'light' as can be – it is basically a list of names and email addresses so that we know to find each other. But it has already proven its value! Harvard professor Daniel Ziblatt spoke at the John Adams during his sojourn as a fellow at the American Academy in Berlin. Yale historian Timothy Snyder has spoken at the Amerika Haus in their series Dialogues on Democracy. And Atlantic-writer and journalist George Packer combined visits to the John Adams and the American Library.
And now there is a new addition to this network, in Belgium: the Antwerp America Foundation, run by Luc Luwel with Nadia Dala as his right hand. They had hoped to launch this initiative last year, but covid got in the way. The AAF is soon holding its inaugural event, om May 4th at 14.45 CET, with an impressive speaker:  the American economist Jeffrey Sachs. You can find more information on the AAF and about registering for the event with Sachs (and for our John Adams event with Dr. Anthony Fauci on May 25th) on their website.
Please join me in welcoming AAF to our network and enjoy Sachs' talk on May 4th!
Tracy Metz, Director John Adams Institute